All about United XXXIV!
Dayton, Ohio
July 30-August 2, 2015
This event is open to all.  Any and all Rootes cars are welcome.
No club membership is required to attend.
Just Announced: Autocross at Kil Kare Raceway!
Doug Jennings has arranged for the local  SCCA to set up our autocross at the Kil Kare Raceway.
So get to work on those Sunbeams and plan on having a lot of fun at this autocross!
Bob and Jean Webb met with the US Air Force Museum and arranged for a special reserved parking area for our cars at the museum.  There are also several free tours of the museum available and even a special tour of the Air Force One planes that we can participate in.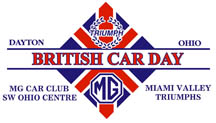 The highlight of the United will be our car show combined with the annual Dayton British Car Show. There will be hundreds of British cars on display in a beautiful park with lots of shade trees. The show organizers are looking forward to us joining them – in fact the event T shirt will feature both an Alpine and a Tiger!
A large group of Canadian Sunbeam owners are planning on joining us at the United and other caravans of owners from around the USA are making plans to head to Dayton too.

The Hotel
The host hotel will be the
Holiday Inn located at
2800 Presidential Drive
Fairborn, Ohio, 45324
(937) 426-7800

It is easy to get to and located several blocks from the interstate. This is an excellent hotel for a car owner's convention. They do 6 or so car conventions per year and are very familiar with the needs of our group and they are looking forward to our arrival.
You can make reservations directly with the hotel at (937) 426-7800
Make sure you use the secret code words:  Tigers East / Alpines East  United.
King rooms are $97 / night
Double rooms are $99 / night
These rates are available 3 days pre and/or 3 days post-United subject to availability. Reservations must be made by 12:01 a.m. on July 9, 2015 to maintain these rates.
There are large meeting rooms available to use for our hospitality, registration, and swap meet as well as the buffet type banquet we plan on having on site.
Located within a one block radius of the hotel are several fast food restaurants as well as small shops and stores and there is a large shopping center and many fine restaurants within a half mile of the hotel.
There is plenty of parking for our car trailers as well as designated parking for all of the Sunbeams.
The Events
Schedule details are now available!
Thursday will be arrival day with registration, parts room, and hospitality room set up. Friday morning will feature a tour of the US Air Force Museum where we will have a special reserved parking area for our cars.
From there we will take a country drive and tour to the world famous Young's Dairy Farm for lunch followed by some home made ice cream. Saturday will be the Dayton British car show.
Our cars will have a special reserved spot amongst the shade trees along with several hundred other British cars in a beautiful park. There are food vendors on site and several parts vendors too. Following the show, there will be a cookout dinner in a reserved pavilion at the park.
Sunday will be the autocross as well as tech sessions and self guided driving tours.  There is a local British car museum as well as a Packard museum we are arranging to visit.
Watch this site for registration information coming soon!